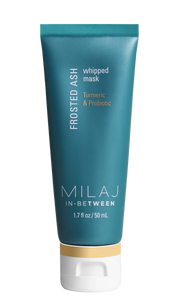 A fluffy mask for weekly use. The ultimate deep cleansing ritual.
Loaded with botanicals, prebiotics, and postbiotics to decongest pores and remove surface buildup. Reveal a brighter and smoother complexion with an immediate glow.
Ingredient Highlights:
Lactobacillus (Postbiotic): Protects skin from imperfection-causing bacteria.
Alpha-glucan oligosaccharide (Prebiotic): Boosts natural skin flora and restores pH balance.
Curcuma Longa (Turmeric) Root Extract: Reduces redness and irritation.
Willow Bark: Smooths skin.
Kaolin (White Clay): Packed with trace minerals to replenish lost nutrients.
Neem Flower: Calms distressed skin.
Shea Butter: Provides essential hydration for dehydrated skin.
Holy Basil: Helps skin adapt to environmental stress.
Recommended Age: ages 5 to 15
Our Products are Free From:
Parabens

Sulfates

Propylene Glycol

Artificial Fragrance/Parfum

Polyethylene Glycol PEG

DEA/MEA/TEA

Mineral Oil

Petroleum or petrolatum
It is part of the routine
My 8 year old daughter loves this product, it is part of the weekly ritual with her mother and they look forward to it. Her face looks baby smooth.
Acne repellent
Everyone loves bug repellent for there homes so why wouldn't someone love acne repellent for themselves? Well, this product has changed my brother's life. So much so that I am here writing reviews on his behalf. He looks and feels better.
Will buy again!
My 13 year old loves this product. It calms her acne flares. She uses it a couple times a week and it works wonders.
My nieces love it!!
I bought this set for my two nieces and they have SO much fun with the mask, it feels like a fun activity for them and thats such an added bonus! Teaches good habits at a young age
I am a fan
Bought this mask and the entire set for my son so he has a routine after his basketball practices. I like the fact that it doesn't have harmful ingredients and was designed for kids. Would order again.