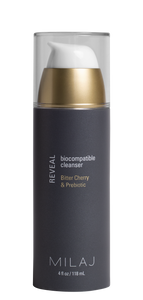 A light, soothing gel cleanser for daily use. The perfect ritual to start and end your day.
REVEAL instantly restores the skin's pH balance. Japanese Yuzu essential oil delivers powerful antioxidant protection, prebiotics stimulate healthy skin bacteria, and natural actives like beet sugar and aloe shield skin from environmental pollutants and irritants.
Ingredient Highlights:
Alpha-glucan oligosaccharide (Prebiotic): Boosts natural skin flora and restores pH balance.
Aloe: Soothes skin and helps alleviate environmental damage.
Beet Sugar: Hydrates skin and protects against environmental stress.
Cherry Water: Helps to firm skin and restore its bounce.
Recommended Age: Adults, ages 15 and up
Our Products are Free From:
Parabens

Sulfates

Propylene Glycol

Artificial Fragrance/Parfum

Polyethylene Glycol PEG

DEA/MEA/TEA

Mineral Oil

Petroleum or petrolatum
My everyday cleanser!
Love the smell. I use it everyday i morning and night without feeling dry. Perfect amount of foam.
Fantastic cleanser
Hands down my favorite I've ever used.
My Favorite Facial Cleanser
Tried many products, but this one is perfect. Not too harsh on the skin, smells great, and leaves my face feeling soft and supple.
Great for Acne Prone Skin!!
I got a free full-size sample at a conference recently. I wasn't expecting much but just used it as a daily face wash for a few months. Surprisingly, it significantly reduced breakouts on my skin!! I usually get hormonal acne around my period time with huge, cystic pimples. However, now I get pimples much less frequently (unless I'm eating unhealthy) and haven't had a cystic pimple in a long time.
Additionally, it isn't drying unlike a lot of acne-focused cleansers out there or densely moisturizing. It's very lowkey and just humbly does its job lol; my skin feels great and maintains its glow. Thank you and will be coming back for more :)
Great cleanser
My skin was having constant breakouts but when I started to use the Biocompatible Cleanser I noticed an amazing change in my skin. I found that this cleanser is the one that works for me. I brought it all the way to college in Paris with me and recommend it to all of my friends!